In Belgium, France and Luxembourg you will find a region with rolling hills and forests. This is the Ardennes region and it has retained many parts of the wild landscape that could be seen in Europe before industrialization. The largest part of the Ardennes region is in Belgium and the word comes from the expression the great forest on the plateau. It's easy to understand why this is the name given to the region which comes as close to wild nature as one could expect in Europe.
So if you are travelling around in western Europe and want to escape the hustle and bustle of the cities, then the Ardennes region is a good option. Soon after crossing the border between Belgium and Germany, or the southern border in Netherlands, you will see how the landscape shifts gradually. More rolling hills and scenic vistas the further into the Ardennes you go.
Where are you coming from?
So you're coming via a city in western Europe and want to go the Ardennes and a spa retreat The Ardennes is accessible from several large cities in Europe, such as:
Amsterdam
Brussels
Frankfurt
Paris
From any of these cities you are able to reach the Ardennes with its lush forests and rolling hills within a few hours by car, bus or train. So what's holding you back, eh. Well, most likely, it's due to a lack of imagination and the herd behaviour – We tend to do what others do, and this holds true for vacations as well. Most people go to the beach resorts or the city weekends, so.. Yeah there you have it. But in the Ardennes you will be surprised to find a mix of quiet villages and the occasional luxury hotel, several boasting entire spa areas as well.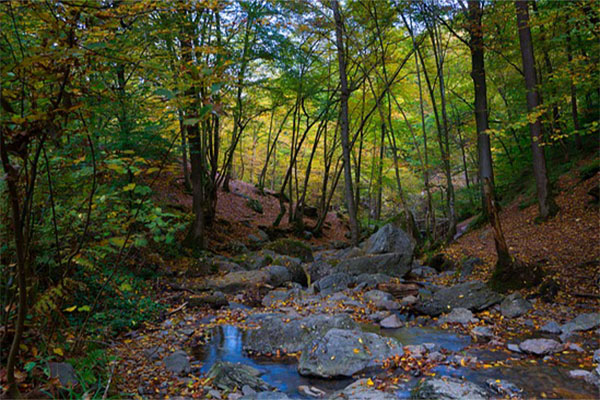 A spa is a spa.. Is a spa?
You read it right. Spa hotels in Ardennes. Because of the lush hilly landscape in the Belgian Ardennes, you can look forward to so much more than a swimmingpool and gourmet food. Here are a few activities you can check out, which of course also are what us Europe Zig Zag enthusiasts enjoy!
Hiking
Biking
Wildlife spotting
Fishing
Canoeing
The nature in Ardennes
The landscape is very lush and green, and the forests are anything but monotonous, with a very mixed fauna. This includes acacia, beech, birch, and oak trees, to name a few. Add to this that you can expect more than 1,500 hours of sunshine per year, so it's certainly a region that feels welcoming during the summer months.
How to get around
Since this is a region with fever large cities, you can look into travelling around with car, bike or at times with public bus transport. The buses stop in many places so this is a very slow and potentially tedious way of getting around. With car you can zip between sights quickly. On the other hand, with a bicycle you will get the nature experience and can soak up the wilderness atmosphere more. So no matter how you look at it, whether you go by car, train or bicycle, there will be an advantage or two.
Time to write Ardennes on your bucket list of areas to explore in Europe. ;)
You got this far and we have more goodies
Sign up to the biweekly newsletter that is meant to inspire you and give advice for your Europe trip.
Please enter your email address below to receive the newsletter.
If you don't receive an email within a few minutes, please check your spam folder.