Munich is the capital of Bavaria. It is also the gateway to the Alps from Germany. From here you can reach the Austrian as well as the Italian Alps with only a few hours in a train or car. As such it is the perfect starting point if you are travelling in Germany and want to explore the Alps.
Going by train or car
If you travel by train there are plenty of connections from Munich. And you can also mix it up with a city weekend before you head for the slopes in the Alps.
If you are coming by car, the road network from Munich offers similar options. Keep in mind if you are heading to more remote places in the south, that there are plenty of small cities and villages to explore. After all, that's why you are reading Europe Zig Zag, isn't it? You want to explore Europe and that goes beyond the most common destinations.
What to check out in Munich
Let's begin with a closer look at Munich. In many ways, Munich is the perfect starting point for your winter sports adventure. You can reach several prime skiing resorts easily. You also have the option of spending some time in Munich, which is lively city with plenty of options for good food and nightlife. By far, the Viktualienmarkt is one of the most scenic places. Read more about it here..
Innsbruck and around for winter sports
Right, it's time to turn our attention to the winter sports resorts. The easiest choice is Innsbruck, only a couple of hours south of Munich. This is famous since decades for fans of winter sports.
Peace and calm – Let's name some places!
Let's change our perspective from destinations to types of travel. If you are looking for peace and calm, this is your section. The Alps is the perfect region in Europe to find some peace and quiet. It is a bit comical that this is also where you can find really hectic vacation resorts. Let's start with a short list of calmer winter resorts..
Alpbach
You can reach Alpbach in less than one and half hour by car. It's closer to Munich than Innsbruck.
Saalbach
If you choose to go to Saalbach, you will be heading south east from Munich.
Kitzbühel
Just like Saalbach, Kitzbühel is south east of Munich and about 1.5 hours away by car.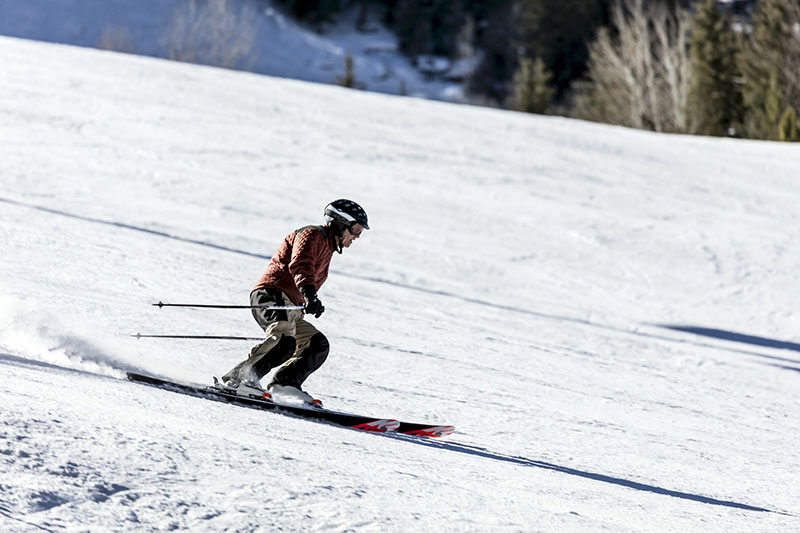 Go when others don't
The trick is to not only consider the destination, but also when you go. Plenty of people in the region will head for a winter sports weekend during season. You might therefore benefit by going midweek, say Monday thru Wednesday. That way you also decrease the risk of massive traffic on the way. Trains will definitely be less crowded during the working week.
Apres-ski and party – Let's name some places!
There are plenty of skiing resorts where the focus is more on apres-ski than the actual skiing or snowboarding. So let's look at the places where you can find some action in the form of parties and more social events. As you can expect, there are cities and winter resorts in the Alps which are more focused on bar hopping and the good food. When combined with some awesome pists, you can end up having a well rounded winter sports trip. Let's check out a few places, beginning with Ischgl in Austria.
Iscghl is known to many as the Ibiza of winter time. Enough said, eh. This is where apres-ski is worth as much as powder snow and a wide range of good pists. Innsbruck is on the way, which means that you can make your way from Munich to Innsbruck and onward to Ischgl. But Ischgl is not the only place where you can shake your legs and have wicked parties, let's name a few popular places..
Ischgl
You can go to Ischgl via Innsbruck. It's easily reachable via the A8 and A12 and takes about three hours by car.
St Anton am Arlberg
This is close to Ischgl so you will take the same route until the last stage.
S
ölden
This is further south and close to the Italian border.
Get the skiing and snowboarding quick guide for the Alps
Sign up below for our newsletter to receive the top 20 tips for your skiing or snowboarding trip in the Alps. This Alps Guide in PDF format will give you crucial advice for your winter sports adventure!
You got this far and we have more goodies
Sign up to the biweekly newsletter that is meant to inspire you and give advice for your Europe trip.
Please enter your email address below to receive the newsletter.
If you don't receive an email within a few minutes, please check your spam folder.