Read the first part here.
My last morning in Cork I took a long detour along the River Lee to check out the old facades seen everywhere. The train ride to Dublin is little more than two hours and invites the traveller to watch rolling hills and open green landscapes passing by. The landscape looked so inviting that I thought several times it would be nice to just get off and explore. With the few stops we made in small places I'm not so sure that the experience would have been like a garden stroll though. My smile reflected in the window and I felt quite at ease in a train enjoying the pastures from behind a window.
Find availability for tour!
At the first stop after Cork, two ladies boarded the train and sat opposite of me. They happened to be two Irish schoolteachers and in their 30s. They soon engaged in a two hour long discussion about one of them and her trip to San Francisco in the US. I casually listened to the stories of her impresson of the city as the Irish accent blended well with the ambient sounds from the train. I had a real visual feast rolling past outside, vast plains with lush arable land on this spring day.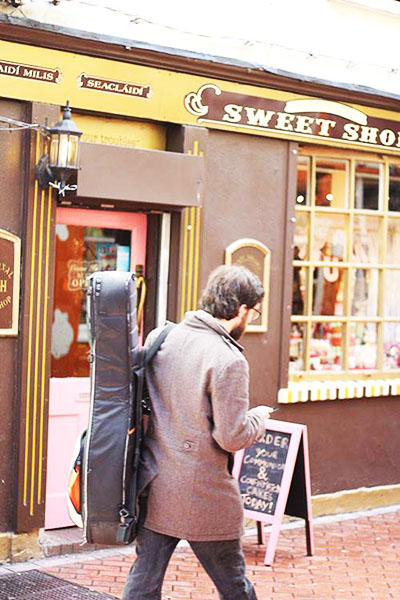 One of the ladies blurted out "Oh and I met Annie. You know she's a converted Catholic. So that's contraception out the window" "Ooh.." That is an amusing and original beginning of a conversation to myself who never encountered such topics back home, in a Protestant country by name but where not many people go to church. Maybe if there was a mobile app for it, people would go. Then again, I think people have plenty to do with a variety of mobile apps.
It turned out that Barney was quite the topic for these two ladies. A debate followed with the issue of how contraception isn't discussed in Annie's family but is skirted around all the time. I fell asleep just after one last remark.. "And Pookey has just had her 50th anniversary, and I missed it. What do I get her as a gift, you think? She's so particular about everything, I feel like I'm havin' an exam. Makes me all nervous!" I absolutely felt like I had been placed in the midst of a cultural exchange workshop, as I sat there listening to their chatter about daily life, Pookey, and the agonies of commuting from the south to the north in Ireland. It was all very pleasant to listen to. Moreover since I was just passing through and didn't have to do the entire journey several times per week.
Dublin greets you with no pretence
The train station in Dublin is an unpretentious one. Situated along the River Liffey it is around 30 minutes by foot from the old centre Temple Bar which all tourists know and love. Moreover, there is no hassle to get there. As soon as you get off the train you can easily walk to the fun in the center.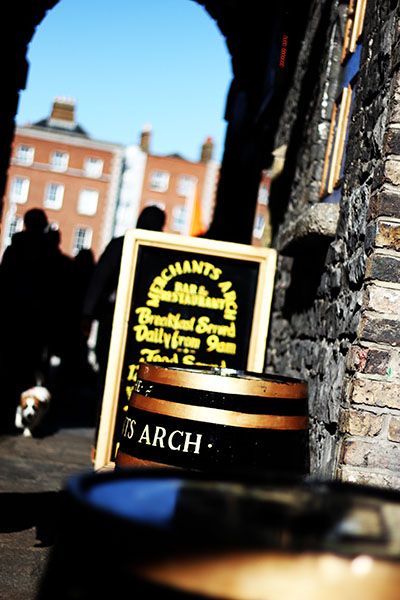 My first encounter with a Dubliner on location was on the pedestrian street alongside Croppy Acre, not far from the train station. I was taking long strides towards my hostel and figured that I might as well try to get to a pub on my way. A two hour train ride with spectacular views of the Irish rolling countryside does get you thirsty. Plus I was still digesting the overheard anecdotes about contraception, wedding gifts and commuter's stories. Said and done, as I passed by a jaunty fellow in a waistcoast I asked where I could possibly find the nearest traditional Irish pub. He just grinned back at me. "Traditional? Where are you from?" My response that I'm Swedish must have some hidden comical value as he laughed heartily and replied "You're a bit early for St. Paddy's, mate" before he pointed me in the general direction of the city center. "Go to the Temple Bar, it's a tad early but you can get yourself a pint and be off to an early start". After a shared cordial laugh I figured that I might as well ask him if he's a local. It turned out that I had met my first Argentinian who (I think) had adopted what seemed to me a very genuine Irish accent. Dublin is a very international city these days. With a booming IT industry and a city life that is known throughout the world, this has become one of the "must visit" places in Europe. What is really a Dubliner these days, I pondered, as I lugged my backback in the general direction of the Temple Bar area. I abandoned the thought as I had checked into my hotel, and headed into the Temple Bar area. The rest is history, as they say. And especially so in a touristy funloging place on your first visit there ever. Hint: It involved beer, live music and plenty of asking direction the coming six hours.
Zig zagging in the Temple Bar area
I made it to the Temple Bar area – again – the following day in early morning. Crossing Ha'penny Bridge, I passed through Merchant's Arch certainly comes close to time travel. The cityscape instantly transforms from a modern city to an old medieval settlement. This is also repeated by a bartender where I strike up a chat about the Temple Bar rea. From it's role as a suburb outside the city walls in medieval times it became a seedy area and was repeatedly attacked by the native Irish in the 14th century. Fast forward to the 18th century and it was the centre for prostitution and saw a drop in the population. Since the 1980s it has enjoyed protection as a city heritage and grown into Dublin's so-called cultural quarter. You'll find plenty of cobblestone streets that link the pubs in the neighourhood. There is more than 1,000 years of history neatly packed into narrow streets with bars, souvenir shops and street vendors. I continued to navigate through the labyrinth of the old neighbourhood the next two days – Plenty of of zig zagging around Temple Bar, sampling craft beers and chatting up bar staff. Just like my first evening. The combination of beer and a chatty Irish bartender is hard to beat. More than once did I find myself staying in a bar because of the friendly banter with the bar staff. With only a few days left to St. Patrick's Day, the preparations were clearly underway. Beer kegs were delivered daily and jostled into the bar cellars. The bartenders had plenty to say about the coming festivities, often with upbeat comments about the hordes of tourists that would invade within 48 hours. A few sardonic comments could be heard as well, ironically in the one pub with the most happy live Irish music being played. There I talked with a young bartender that commented on the party to come by saying "Lucky for us they close down Temple Bar, it's 50 people leave and 50 people can get in, mate." Quite the tourism industry apparatus, St. Patrick's Day.
Honestly, after the lasting first impression of Cork and the friendliness and low key way of life there, Dublin stands out as a bit of a show-off. Just a tad tiring with all that attention seeking after having had such a relaxed time and chit chatting with the Corkorians in the south for days.
I decided to leave on St. Paddy's Day. I reasoned that I have seen drunk people before, as well as drunk people wearing funny clothes and hats. Why spoil the upbeat but calm impression of a city preparing for a festival by running into drunks from all over the world over the course of a couple of days. To each his own, I concluded as I sipped on a cup of tea waiting to leave the drunken craziness. Ireland is an exciting corner of Europe, that much is certain. Whether you go there for the city life or the nature. It's a country that is full of experiences and it becomes so very apparent when you juxtapose the experience of a city (any city) in Ireland with Dublin. Add the friendly chats and the lush nature on the countryside, and you have yourself a place to dream of.
Do you want regular travel inspiration?
Then sign up to the biweekly newsletter that is meant to inspire you and give advice for your Europe trip.

Please enter your email address below to receive the newsletter.
If you don't receive an email within a few minutes, please check your spam folder.