The journey started with no certain plan on where to end up. After all, train hiking allows you to go wherever there is rail, and we have a lot of that throughout Europe. My only wish was to see two cities in two different countries, with Berlin being one of them. I wanted to avoid cultural claustrophobia that is often experienced in smaller towns or villages. In short, I was in pursuit of the throbbing pulse of large cities.
The first leg of the trip introduced some questions that many railers are sure to ask. What if my train is late for the next connection? If one is out of luck when this happens, the InterRail card enables you to take any train in the regions of your choice, so to miss a train can at most lead to a loss of the small fee for a seat reservation.
The frequency of connections between cities varies, so I recommend that you have a look at the railway web sites for the countries you plan to travel through. A couple of searches will reveal how much time you should expect to have to wait.
When you sit in a train carriage for more than three hours, the urge will come to have a snack or perhaps even a meal of food. So also for me as we crossed the border between Denmark and Germany, some eight hours after the beginning of the journey. I say think ahead and buy your food stuff before departing, since most trains' food offering is limited, and expensive at that.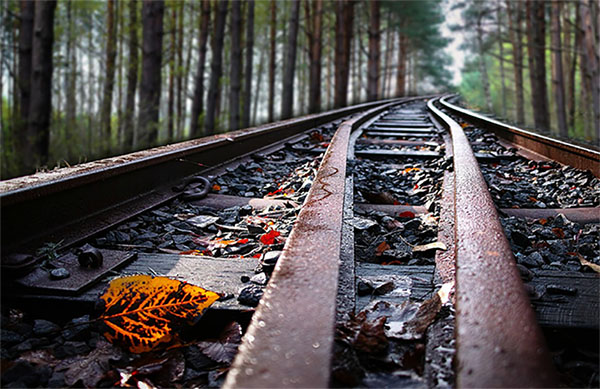 Going south

The trip between Copenhagen and Hamburg was a breeze, in several aspects. After having planted myself and my 60 litre backpack beside me, I instantly dozed off in a semi-haze, while watching through the window how we flew by the landscape outside. Now I'm certain it was not for long for when we reached the surroundings of Lolland, the ticket conductor came by on his first passage. A quick glance on my handy InterRail Europe map revealed that we had already travelled almost the entire distance to the last stretch of water that separates Denmark from Germany. At the next stop I was accompanied by an elderly couple who had spent their summer vacation on the small island Lolland, seemingly a famous holiday resort for Germans, especially so for those who live in the north.
No wonder, I thought as we embarked on the ferry that would take us over the small distance with sea that is between us and Germany. No more than roughly an hour after having departed from Copenhagen, we were about to leave the country. For the retired old couple the trip was indeed a short one before returning back home.
It seems that Denmark is a popular tourist trap for the neighbouring country. While we raced north comfortably, I picked up some German words, and we exchanged observations on the climate change. This must be exactly what train hiking is all about, meeting people in a relaxed environment while travelling, getting to know each other, and then moving on in separate directions at a train station. A good description of life in large, come to think about it.
Arriving in Berlin energized

When coming with train from Denmark one is obliged to pass through Hamburg. The central station in Hamburg has connections in all directions and if you can consider to travel by nigh train, it is possible to reach most European capital cities in one night. I already knew that Berlin was my next stop, with numerous places I wanted to see in that capital city. Therefore I stayed a meagre half an hour before jumping on to the train that would take me to Berlin in less than two hours. I barely managed to buy a hamburger (yes really, in the city of Hamburg) before I had to run to the train.
When in Berlin I was struck by the fact that the journey had progressed so smoothly, and the connections between the cities were so frequent. I almost wished it had taken a bit longer, so that I had not felt obliged to rush onward to the next stop. This of course is related to that my InterRail card was restricted to five days of travel, spread out over a period of 10 days. Not much time to play around with.
The Berlin Hauptbahnhof was the most impressive central station I have seen so far. This enormous building in glass houses connections in all directions, with trains on five different levels. The S-Bahn occupies the highest level and can carry passengers around Berlin. I immediately sped off in the direction of East Berlin. This part of the city definitely holds some of the more agile choices for night life and sightseeing. Outside Ostbahnhof are the only remains of the Berlin wall, now decorated with artful messages in graffiti. The western and eastern parts of Berlin still have some striking differences, with the western parts showing much more modern architecture and business neighbourhoods. Eastern Berlin, in contrast, can attract people to a more lively night life. It's no great wonder that many hostels were established in these parts. I saw no fewer than two other backpackers heading to the same district in eastern Berlin, though we ended up in different hostels.
Before my departure to Prague, I took a strawl around the must-see tourist sights, including the Brandenburger Tor and the Reichtag. And what would a visit in Berlin be without a Currywurst, the pork sausage with hot curry sauce. I couldn't leave this impressive city without having stuffed myself with two currywurst and buying another one to bring on the train.
To Prague
The ride from Berlin to Prague takes no more than five hours, with some fluctuations depending on if you go with a InterCity train or a regional one.
The scenery varies with German agral country to the river Elbe which flows into Czech republic. There are numerous houses that line the bank of the river, and the slow train ride allows for some people-spotting and just enjoying the mountaneous landscape. When we started our approach to Prague, the landscape changed and we passed several villages and lonely houses lining the woods.
Prague is a large city and there are two stations, with the first located more in the center. This city is really a treat to visit. Central Prague still boasts with architecture from centuries back, and the Charles Bridge and the Prague Castle are the two most famous sights. Both feature rich history and I easily spend a day and a half simply wandering around, visiting the adjacent museums and learning more about the history of Prague.
As if this isn't enough, Prague is also a city for partying. There are discos for those into music from the 80s as well as more modern music and intensive techno. But that which really surprised me was the excellent food and the many small restaurants and pubs spread out in Prague. The cuisine is exciting and an interesting mix of western and eastern, with such delights as onion soup with potatoes and fried cheese with potatoes.
The road back
After zigzagging through Germany and with two visits to Prague, the InterRail card was rapidly running out of travel days. With that in mind, it was time to check train departures from city to city, in order to reach Denmark and the final train heading north into Sweden. With the InterRail map over European train connections in hand, a cup of coffee next to me, and the keyboard clicking sounds in the Internet café, I found something interesting. It takes no more than six to nine hours to move around between the capital cities in northern Europe (Germany, France, Austria, Switzerland, the Benelux countries). Why fly when you can enjoy a meal, some reading and voìla, you arrive at your destination fresh and full of energy. As it happened, I managed to squeeze in an extra day in Berlin on my way back, the morning train to Hamburg took me well in time to the connection that would take me to Copenhagen.
Do you want regular travel inspiration?
Then sign up to the biweekly newsletter that is meant to inspire you and give advice for your Europe trip.

Please enter your email address below to receive the newsletter.
If you don't receive an email within a few minutes, please check your spam folder.