The first stop is Munich. I've got my hotel reservations, not one but two. There's quite a bit of enjoyment to be had chatting up hotel staff. So two hotels doubles the probability that I'll run into someone fun. When one travels by train in Europe it's good to keep in mind how the railroad networks stretch out from the capital cities. Think of the capital cities as the hearts from where the main arteries (railroads) reach out to the cities in the country.
I had this in mind as I set out and travelled through Germany to reach Munich. I didn't want to get stuck in slow regional trains between cities with very little railroad traffic. As I lugged my backpack through the city I was happy to be out of the train almost 9 hours of train travel gets to you. Looking at a map of Europe, it doesn't seem I've made it that far from Amsterdam. But then again, there are the train changes and delays. Lucky for me the Dbahn has well stocked bistro cars where one can eat and drink in style and comfortably.
Viktualienmarkt the farmer's market
The Viktualienmarkt in Munich is some 20 minutes by foot from the central station. This is open daily and has well more than 100 stalls with fruit, vegetables, spices, cheese, fish, and flowers. Phew! Whether you're travelling solo or there with a loved one, you can find all kinds of goodies to stock up on before you continue your exploration of the city. Take note that the entire market is lined with restaurants with an authentic Bavarian feel to them.
So you want to walk around and check out the surrounding streets as well. The market opens at 08:00 and continues until 20:00, so you have 12 hours of shopping, eating, and just plain sauntering around ahead of you.
Combine this with a strawl through the English garden and you've combined the Bavarian culinary delights with the intake of scenic garden. When in the park, do check out the river Eisbach where surfers dare the waves!
A day trip to Salzburg for the nature experience
Salzburg is less than a couple of hours away from Munich by train. Many associate Salzburg with Christmas markets and strawling around holding a loved one's hand. Set among the hilltops and with the smell of roasted almonds, it's hard to disagree. But even so, if you arrive in late autumn and as a solo traveller, there is the beauty of yellow and orange as the leaves shift colours to set your mind at ease. That and it's not too busy so that you can easily saunter around without having to elbow people. The old town is situated on the opposite side of the Salzach river, seen from the modern area in town.
A bonus with this romantic city lies in the hidden alleys with their cafés and restaurants in the old town. Just find your way to the old town and then tuck away your tourist map and loose yourself in the old winding alleys. Before you know it you'll come across an alley you already walked through, yes, it's a small place, the old town in Salzburg. The area is so small that you will find precious few new pathways to try out and I'm sure you'll find a café or restaurant to daydream in when your feet start complaining.
If you really want to soak up the atmosphere you should go on a day hike or visit the Hohensalzburg castle, which sits on a hill overlooking the city.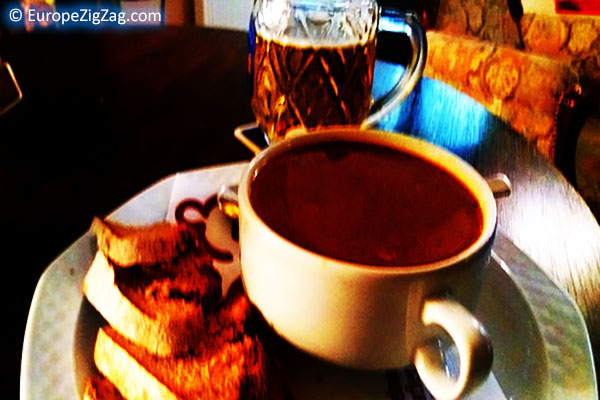 I don't know if it's the spicy Goulash and the pint of Puntigamer getting to me at such an early time (non disclosed), but my aren't the locals in Salzburg really forthcoming and friendly. You may have your ideas about the attitude towards strangers in Austria. I found pretty much everyone very talkative and helpful. With that in mind, put on your best smile and give your go at a cheerful mood and you'll see if you don't get some nice conversation flowing with one of the locals. It took me less than an hour before having an interesting chat with a store owner about Christmas and the thousands of couples that will visit for some romantic bliss.
Stay longer and expand your exploring?
Salzburg is neat and tidy and like already pointed out it's also very small! Many come to this city not primarily for the city itself but as a transit point for adventures in the surrounding mountains. If you want to do the same, you will need to plan for a longer stay.
Salzburg is the key to Austria's beauty
The resort area Salzkammergut is just next door to Salzburg and has a stunning range of outdoor activities available. Whether you fancy hiking, cycling, golf or kayaking, you have it at the tip of your finger in Salzkammersgut. Take for instance the Hallstätter See (Lake Hallstatt) which is espcially popular among scuba divers. The nature in Salzburg and Salzkammersgut is so famous that it has earned a reputation as a nature retreat in Europe. Yes, Salzburg may be the birth place of Mozart and yes, the old town is very cozy. But there is so much more to do in the region and the emphasis is on the 'do'! Sports and nature activities are the real attractions of Salzburg.
Keep this in mind as you plan your trip to Salzburg, to experience the nature in Salzkammersgut is a perfect way to disconnect from the daily hassles of Internet, text messaging and email. So turn off your mobile phone, if only for a day or two. ;)
So how do you get there?
The landscape in Austria is mountainous and offers great panoramic views while you travel by train or car. The German trains travel frequently from Munich and it's slightly less than a two hour ride.
If you want to go by car you will also have the opportunity to explore the countryside with the rolling hills. Whether you choose to come in spring, summer or autumn, the city will be as cozy as can be and the nature will welcome you with the colours of the season in question.
Do you want regular travel inspiration and deals?
Then sign up to the biweekly newsletter that is meant to inspire you and give advice for your Europe trip.

Please enter your email address below to receive the newsletter.
If you don't receive an email within a few minutes, please check your spam folder.