Glamping, or glamorous camping, was born in United Kingdom in 2005. Since then the concept has gained momentum and has become a widely known form of holiday. But how did glamping come about? And who was it targeted to in the beginning? We talk with Cool Camping and Glamping Hub to understand the trend better.
Cool Camping has been around since 2005 when it was born out of an idea from travel writer Jonathan Knight and friends. The company was setup in South Wales and originally was meant to compile a book with beautiful English campsites. In it readers would get inspiration as for where to go and what activities were available. With carefully selected photos for the locations, the readers could get a feeling for the vibe in the particular glamping locations.
Glamping Hub was founded by David Troya in 2011. During his MBA studies he heard of the term glamping and established the company with co-founder Ruben Martinez and Talal Benjelloun. When it was launched in 2014, Glamping Hub featured 200 accommodations. It has grown considerably to over 15,000 accommodations in over 100 countries in 2017.
The main market for Glamping Hub is in the US. On Glamping Hub alone, 69% of the customers booking accommodation are in the US, 8% come from Australia, 6% in Canada, 4% in the UK, and 3% in Spain.
I get the chance to talk with James Warner Smith at Cool Camping about what is happening right now in the company. "Glamping is growing very quickly among younger adults between the ages 25 and 35 but has a very broad audience. It is also very popular with families, as it means they do not have to buy or own any camping equipment and allows their children to have a fantastic outdoors experience, while parents can still enjoy some comforts.", James tells us before elaborating on where these 25-35 year olds want to go glamping.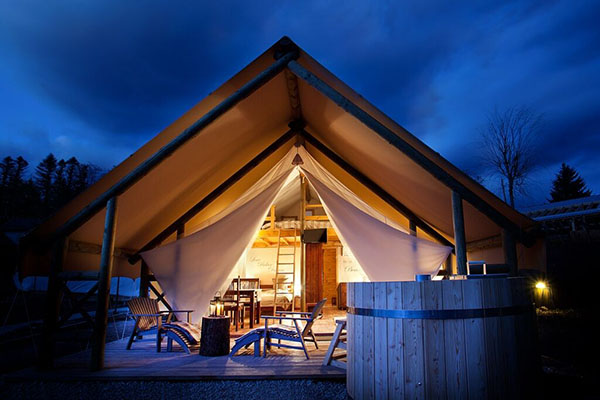 Who really goes on glamping vacations?
"Most of our [Cool Camping] customers are based in the UK and search for places to stay within the UK, usually within a 2 or 3 hour drive of where they live. The most popular locations are Cornwall, Dorset, the Lake District, Sussex and Pembrokeshire."
Because I have never tried glamping, I attempt a guess what it is really about and my thoughts drift to glamorous camping, or luxury camping. Is it simply a cozy cabin with all possible amenities with some trees and a pond outside the window? But Glamping Hub's COO, Talal Benjelloun, mentions the mature tourists.
"The mature tourists who have traveled already to resort and city destinations are looking more and more to do a different type of experience when they are planning their trip and that's where they start looking for alternative accommodations that are not hotels or apartment. The good news is that glamping accommodations are alternative and unique and have the comfort of a hotel, so that's why it became more popular."
James goes on to describe a very wide spectrum of glamping themes.
"Glamping ranges from bell tents with air-beds from £40 per night, right the way up to tree-houses with roof-top saunas and power-showers that can be up to £300 per night!" He mentions "People searching on coolcamping.com are also often interested in wood-burners and hot tubs for added luxury."
So one can find a real outback adventure as well as a luxurious treehouse, proper Hobbit style. But hold on, are these families that choose to go there?
"Cool Camping often get asked for glamping site specific for groups. As glamping is becoming popular for hen parties and group get-togethers. We help people find whole glamping sites that they can book all to themselves."
At Glamping Hub, the statistics point out the gender imbalance and the wide range of ages that choose to go glamping. Jessica Armstrong who is head of public relations at Glamping Hub comments on the trends.
"About 60% of our users are between the ages of 25-44. Across the board that is the typical age bracket of glampers 70% being female and 30% male." She elaborates on the group trend "Family glamping has become increasingly popular with more accommodations avaialble for larger groups and families."
Escapism for the comfortable
Glamping is still very much related to adventure and escapism. Talal from Glamping Hub mentions the importance of something to do around the accommodation.
"It is definitely related to getaways in nature. Most of the glampers seek activities around the accommodation, and since the accommodations are located in nature the majority of the activities are related to adventure such as kayaking and hiking."
James at Cool Camping states a few exciting examples of adventurous extras that are available via Cool Camping. "White water rafting at sites in Scotland, cliff jumping in Wales, and sea kayaking in Cornwall."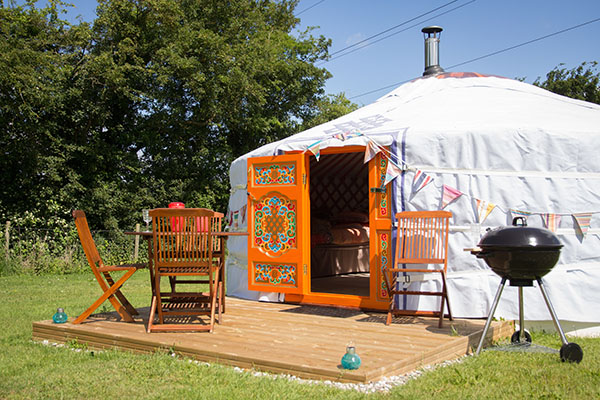 How glamping became hot in United Kingdom
James shares his fascination with how glamping has grown over the years.
"It's amazing to look back at people searching for glamping. Back in 2009 it wasn't even a word that existed. We published our first glamping guidebook – glamping getaways – back in 2011, when it was only just materializing as a trend. Back then it was often less luxurious and more about offering camping without the hassle. Nowadays it is really emerging as a high-end luxury trend with hotel chains and big-name brands moving into the market – particularly as it begins to attract a younger millennial audience."
What is in hold for 2017 and 2018?
Finally I wonder if we can expect any news in 2017? Jessica mentions a large expansion underway. "Glamping Hub will add more accommodations in the United States, Canada, Australia and New Zealand. Hectic times are coming, considering a beginning with 200 sites in 2014 to August 2016 with over 15,000 sites.
"Yes!" is the definite answer from James to the same question. "There are always new glamping sites opening year in, year out. This year we had a converted jet-star aeroplane, hand-built hexagonal pods and several new, bespoke treehouses. We're already hearing exciting plans for next year but it's early days yet, so you'll have to get back to us for further details later this year!"
Glamping as insurance against bad weather
How far do glamping tourists want to travel to experience the beauty of glamping? And where do they all come from? It turns out that although the concept really started in United Kingdom, it is spreading overseas. James comments "It is now a fast growing trend in France and Europe. Particularly in UK it is a big phenomenon, which could be explained with the weather conditions." As he goes on to describe "Booking a shepherd's hut, pod or safari tent, means you know you will never have to arrive and have to try and erect your tent in the pouring rain."
The glamping trend is thus developing rapidly. From a rustic retreat close to nature to wickedly strange and exciting places to stay like airplanes and shepherd's huts. Sprinkle it with come luxurious amenities and enter the millennials that shape the trend to their own liking. Jessica mentions the trend of hosts adding more accommodation. "The biggest trend, rather than a shift in rustic or luxury is that hosts once they have one glamping site tend to develop an interest in adding more which gives more of a group experience. We have found that many of our hosts who initially have one site tend to add another if not to their site but to their property development, creating more variety and opportunity.
James comments on the luxurious glamping trend. "Really glamping became more luxurious simply because new sites were opening and wanted to offer something better than their competitors. Originally, when glamping started, the idea was to offer a pre-pitched version of camping. So camping, but with more comfort. As this took off, however, new sites would open and try and offer something that little bit more special than those before."
Talal from Glamping Hub adds an interesting anecdote about the trend. "The word 'glamping' was first heard around 2007 when a journalist connected the word camping with glamour to describe one of the accommodations she was writing about. Since then a lot of glamping site owners started marketing their properties with that word, since it's sounds good and people like it."
Find your glamping trip!
Cool Camping offers you the guide Glamping Getaways that was published in 2016. In it you will find ideas for glamping holidays such as double-decker buses and ex-RAF helicopters.
Glamping Hub has a large collection of nature-based accommodation. The emphasis is on the five-star experience and the luxury experience is a priority.
Do you want regular travel inspiration and deals?
Then sign up to the biweekly newsletter that is meant to inspire you and give advice for your Europe trip.

Please enter your email address below to receive the newsletter.
If you don't receive an email within a few minutes, please check your spam folder.